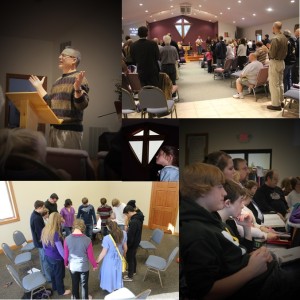 A place to Hear, to Heal, and to Grow.
With cellphones, computer, telephone, and mailbox, we are constantly bombarded with So Many Messages!
At Dubuque Community Church. we seek to bring you an inspiring message of hope as you hear the truth of God's grace and meet a variety of people who have found peace despite various struggles and pains.
Whatever your situation, you will find a friendly, accepting atmosphere in our church.
Our worship style is informal, and our dress is casual. The music is contemporary, the coffee is hot, and the muffins are fresh.
If you thought going to church might be an uncomfortable experience, we would like to change your mind. Journey with us as we grow in our faith together.
Dubuque Community is a church that is concerned about the spiritual needs of our community. Our desire is to be a help and a blessing to you. We hope that you will come and visit us.
Worship

Sunday
Sunday School 9:00 am
Church Service 10:00 am 
Wednesday
Bible Study, Music & Prayer 6:30 pm
Youth Group and Children's Ministry also